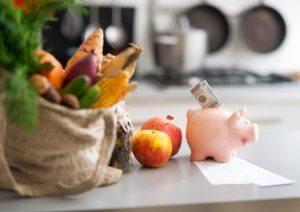 We feel better when we eat well. We have more energy, we think more clearly, and our mood improves. Yet, time and time again, we default to junk food. Keeping a healthy diet can be a struggle for so many reasons. Maybe we've got a wicked sweet tooth, and the only cure is a pint of ice cream. Maybe we're too tired after a long day of work to prepare a healthy salad. Or perhaps we're on a strict budget, and fresh vegetables cost too much compared to a box of mac and cheese. Price is a very common pain point for low-income families trying to keep healthy diets. Fresh produce is affordable and plentiful in much of the world, but here in the USA, processed food is cheap and plentiful. Healthy produce often seems hard to justify in comparison, or so it seems at first glance.
According to a new study published in the Journal of Nutrition Education and Behavior, eating a healthy on a budget is possible! A recent study demonstrated that a family of four should be able to maintain a healthy diet that is consistent with the US Department of Agriculture (USDA) low-income cost of food meal plan as long as they have access to stores that sell items in bulk and plan meals properly.1 The study assumed a household income of $35,000 or less and aimed for a daily cost of $25 for a family of four, or $6.25 per person per day. It also accounted for food cost, access to stores, and time for meal preparation.
It was not possible to meet nutritional guidelines and the USDA low-income standard every day, but the recommended daily nutritional guidelines could be met on average over a 2-week period. Some days may be higher or lower in certain nutrients than others, but the 2-week daily average should meet nutritional needs. As the study's lead author Dr. Karen M. Jetter, PhD, put it, "These menus showed that a healthy diet on a budget was achieved by balancing daily targets over two weeks, not every day. This focuses healthy eating on balance rather than being deprived". This is why meal planning for a full 2-week period is essential for this plan.
The result of this study is fantastic news for many, but unfortunately, it doesn't hold true for all low-income American households. Food deserts are still a reality in many parts of the country. Families that live in areas without access to grocery stores with bulk ingredients and healthy options can't procure the healthy ingredients they need to make this plan. Many low-income households simply lack the nutritional education needed to plan healthy meals. While there are resources available to help with this, many don't know where to start looking without outside assistance. Transactional costs such as time to plan meals, time to make grocery lists, and time to research store discounts are also major factors and can be obstacles to eating healthily and cheaply.
Lastly, while the cost from this study is consistent with the USDA low-income cost of food meal plan, it is still higher than the cost of the USDA Thrifty Food Plan which is the basis for the Supplemental Nutrition Assistance Program (SNAP), formerly known as the Food Stamps Program. This program benefited roughly 40 million Americans in 2018, meaning that the USDA standards are not enough to accommodate healthy eating for a huge portion of low-income American households. While this study signals great progress in the quest to make healthy eating affordable for the masses, there is still plenty of room to grow.
---
1Jetter, K. M., Adkins, J., Cortez, S., Hopper, G. K., Jr, Shively, V., & Styne, D. M. (2019). Yes We Can: Eating Healthy on a Limited Budget. Journal of nutrition education and behavior, 51(3), 268–276. https://doi.org/10.1016/j.jneb.2018.12.002
People who liked this blog, also read these: