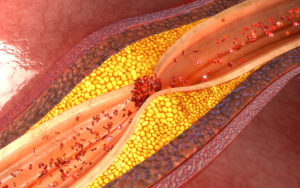 It's American Heart Month! That means it's time for us to draw attention to our hearts and what we can do to keep them beating strong. Heart health is a big concern for Americans, as heart disease is the leading cause of death for men and women in the United States with more than 700,000 deaths each year. And while Heart Month may be an American holiday, heart disease is also the leading cause of death worldwide, with more than 17 million deaths each year. American Heart Month is a good time to remind ourselves that many deaths caused by heart disease could be prevented through healthier lifestyle choices. Heart disease includes a number of diseases that affect the structure and function of the heart, such as heart attacks, abnormal heart rhythms, congenital heart disease, heart failure, vascular disease, and the focus of today's blog, coronary artery disease.
What is it?
Coronary artery disease (CAD) is the most common type of heart disease in the United States, as well as the leading cause of heart attacks. This condition develops when the major blood vessels that supply your heart with blood, oxygen, and nutrients become damaged or diseased. It manifests in the form of cholesterol-containing deposits (plaque) that build up and narrow the pathways in the coronary arteries. This plaque buildup is commonly known as atherosclerosis.
Narrower pathways mean decreased blood flow to the heart and can cause shortness of breath and chest pain. If enough plaque builds up to completely block the coronary arteries, it can lead to a heart attack or even death. Similarly, if a plaque deposit ruptures, platelets will clump at that site in an attempt to repair the artery. This can also block the path of blood flow and lead to a heart attack.
CAD is more likely to develop as we get older, but it is still a risk in younger individuals with unhealthy lifestyles. Men and those with a family history of heart disease are more likely to develop CAD. Other risk factors for CAD include diabetes, high blood pressure, high cholesterol levels, obesity, excess stress, and smoking.
How can I prevent it?
Risk factors like age, gender, and family history are out of our hands, so let's talk about the ones we can control. CAD kills over 300,000 Americans each year, but simple lifestyle changes can reduce the risk of heart disease by as much as 80%. If you are a smoker, find a way to quit. Smoking is highly correlated with atherosclerosis and high blood pressure, which often lead to heart disease. Eat well and stay at a healthy weight. Obesity and diets with saturated fats, sugars, and high sodium are linked to high blood pressure, high cholesterol, and type 2 diabetes, all of which can significantly increase risk of heart disease. Regular exercise will strengthen the heart, improve circulation, and lower the risk of plaque buildup in the arteries. If none of these suggestions seem complicated, that's because they aren't! There is no way to entirely mitigate the risk for heart disease, but living a healthy lifestyle can reduce the risk factors by as much as 80%. Start taking care of yourself today if you haven't already, and celebrate American Heart Month by sharing this information with your friends and family.
---
People who liked this blog also read these: