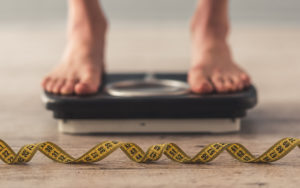 With obesity more prevalent than ever and diabetes looming on the horizon, we Americans are ever on the lookout for new tips and tricks to aid us in our weight loss journeys. It can be tough to know what works and what doesn't with how quickly current weight loss trends seem to change. Diet and exercise are universally acknowledged to play major roles in weight loss, but many other weight loss aids have risen in the last few years. Intermittent fasting is a new craze, and there is research to suggest that it could have real merit. Ice baths and cold showers have been rising in popularity, but the science on those is still unclear. Probiotics have also started advertising weight loss as a selling point, but is there any truth to that? Do our gut bacteria have a tangible impact on our metabolism?
According to a 2016 study from the Technical University of Denmark (DTU), signs point to yes.1 In this study, researchers from the National Food Institute transferred bacterial communities from 32 children and adolescents into specially bred mice with no intestinal bacteria. Half of the participating donors were overweight, and half were a normal healthy weight. The researchers examined differences in weight gain and metabolism among the mice and compared these findings with the corresponding differences between the children and adolescents that had donated bacteria.
The results of the study were clear. Despite eating identical diets, mice that received bacteria from overweight children gained more weight than mice that received bacteria from children of a healthy weight. These findings line up with results in previous human studies. Researchers were able to determine some specific differences to account for the weight loss. According to Professor Tine Rask Licht from the National Food Institute, "The bacterial community in the intestine of mice with the smallest weight gain has been less capable of converting dietary fiber in the feed, which partly explains the difference in weight between the animals."
We have also talked about certain bacteria that promote weight loss in prior Humarian blogs. We talked about the ability of L. paracasei to help reduce weight gain by shifting the structure of gut microbiota disrupted by high fat diets toward microbiota of an individual with a more healthy diet. Other studies have demonstrated that L. paracasei has been shown to reduce storage of body fat by modifying specific factors in fat storage regulation.2 We have also written about the correlation between L. gasseri and weight loss. Studies have shown that L. gasseri may reduce adiposity (fat), body weight, weight gain, and have an overall beneficial influence on metabolic disorders.3 Studies are still in the early stages regarding probiotics and weight loss, but even early on, there is strong evidence that your gut microbiota could have a significant impact on your metabolism.
---
1Zhang, L., Bahl, M. I., Roager, H. M., Fonvig, C. E., Hellgren, L. I., Frandsen, H. L., Pedersen, O., Holm, J. C., Hansen, T., & Licht, T. R. (2017). Environmental spread of microbes impacts the development of metabolic phenotypes in mice transplanted with microbial communities from humans. The ISME journal, 11(3), 676–690. https://doi.org/10.1038/ismej.2016.151
2Aronsson L, Huang Y, Parini P, Korach-André M, Håkansson J, et al. (2010) Decreased Fat Storage by Lactobacillus Paracasei Is Associated with Increased Levels of Angiopoietin-Like 4 Protein (ANGPTL4). PLOS ONE 5(9): e13087. https://doi.org/10.1371/journal.pone.0013087
3Kadooka, Y., Sato, M., Imaizumi, K., Ogawa, A., Ikuyama, K., Akai, Y., Okano, M., Kagoshima, M., & Tsuchida, T. (2010). Regulation of abdominal adiposity by probiotics (Lactobacillus gasseri SBT2055) in adults with obese tendencies in a randomized controlled trial. European journal of clinical nutrition, 64(6), 636–643. https://doi.org/10.1038/ejcn.2010.19