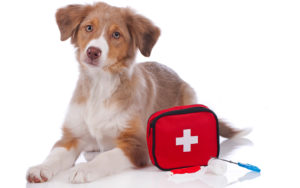 Pet safety is an increasingly popular topic amongst pet owners as of late. Last month, we talked about one aspect of pet safety, poison prevention. April is Pet First Aid Awareness Month which gives us a great excuse to continue our pet safety discussion! If your dog had a seizure, would you know what to do? If your cat ate something poisonous, would you know how to handle it? Nobody plans on having an accident, but they happen, and they can happen to your pets. First Aid Awareness Month is all about making sure you're prepared in case of a pet emergency.
Common Hazards and Treatments
It's impossible to be totally prepared for every first aid crisis, but simply having a basic understanding of some of the most common occurrences can give you a big leg up. Heat Stroke is one of the most overlooked hazards for pets in warmer weather. Leaving babies in the car is a big no-no, and your pet is no different! In case of heatstroke, try to cool your pet down as quickly as possible using a wet towel or a water hose, then bring your pet to the veterinarian as quickly as possible.
Seizures can occur in pets for a variety of reasons. If your pet has a seizure, keep it away from objects that could hurt it, and do not restrain it. Time the seizure, then keep your pet as warm as possible and contact your veterinarian ASAP.
Toxins are a huge hazard to pets. The best way to deal with toxins is prevent your pet from being poisoned in the first place. If your pet is poisoned, the best steps you can take are to call your veterinarian, an emergency veterinary clinic, or the Animal Poison Control Center Hotline at 888-426-4435.
Preparation and Resources
The above only covers a small sampling of the possible hazards to your animal. If you want to be fully prepared, take a course in pet first aid. There are plenty of classes available that teach pet first aid, CPR, and emergency care.
Preparation is key if you want to be ready for any pet emergency. Know the location of the nearest 24-hour emergency center before there is an emergency. Try to drive by the facility at least once before something happens. The last thing you want to be doing when your pet has a serious injury is looking for directions.
Buy or prepare your own pet first aid kit. You can buy a premade kit from your local pet store or online. If you decide to make your own, be sure you have all the essentials, like gauze pads, antiseptic ointment, surgical tape, ice packs, tweezers, a rectal thermometer, non-latex gloves, and a pen and notepad. The American Veterinary Medical Association (AVMA) has a pet first aid kit checklist that you can use to make sure you have all of your bases covered.1
Other useful resources include the APCC (888-426-4435) and the Pet Poison Helpline (855-764-7661) for situations where pet poisoning is a concern. The AVMA website at avma.org has a plethora of information available on pet first aid topics. We also recently talked to Arden Moore about pet first aid on the Humarian Health Podcast. Arden is one of the most prolific pet and safety coaches in the country. You can find more about Arden's thoughts on pet first aid at ardenmoore.com.
---
1https://ebusiness.avma.org/files/productdownloads/LR_COM_FirstAid_010816.pdf
People who liked this blog also read these: