by Lori Davidson & Remy Bibaud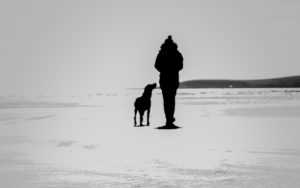 When people ask, "Who loves animals?" I don't hesitate to say "Me"! From Millennials to Boomers, you'll find proud pet parents. I often add the hashtag #catmom to my social media posts. I'm a pet mom and have been for years. I've raised dogs, cats, horses, and even a lizard or two. I'm also now a pet gramma to two dogs, two cats, and a horse (rescue/foster fails). My daughters are animal lovers, too. I'm blessed.
Asking someone about their pet is a great conversation starter. Often, you'll hear someone reminisce about that one special fur-baby, the one that the passing of time can't prevent the welling of tears with the mention of their name or the flash of a passing memory. For me, it is my Arnold and Snowflake. They came into our family when my girls were young, and they were part of our daily lives for 16 years. When my first dog Rudi passed, my heart was broken. Rudi was my first dog as an adult, the fur-baby who came before I had babies of my own. I couldn't imagine ever caring about another pet as I cared for him. Arnold and Snowflake were my daughters' dogs. Two little balls of white fur. It didn't take much time before they wiggled their way deep into my heart, too. Years later, when I officially became an empty nester, Arnold and Snowflake became the heart of my home, and I was grateful for their companionship. But they were aging, and their time on earth was growing short. Losing them within months of each other was devastating. I miss their presence in my life to this day.
It's clear that society is recognizing the increasing importance of pets in our lives, as we find pet-friendly restaurants and coffee houses popping up everywhere lately. Many resorts now offer pet-friendly accommodations. Pets are an intricate part of the fabric of our lives! With millennials postponing families or even choosing not to have children, pets are truly their fur-children. Pets provide companionship at all stages of life – playing, sleeping, and snuggling faithfully by our side. Fur-ever by our sides; if only…
Pets are never here as long as we would wish. So, when the time comes for our fur family to journey across the rainbow bridge, how do we cope with the ensuing grief? How can we reach out to others who are coping with the loss of a beloved pet?
4 Reasons for Recognizing Someone's Pet Loss
When someone's family member passes away, you would traditionally recognize that loss. Pets are family too!
The loyalty and companionship your pet provides and the nurturing you share with them create a strong and lasting bond that leaves an enormous feeling of loss when the pet dies.
Disenfranchised grief. Studies show that grief from pet loss is often more difficult than that of losing a relative. Additionally, outsiders misunderstand these feelings, which can leave the pet parent to feel alone and embarrassed about their grief. How many of us have heard and felt the sting of a well-meaning, "It was just a dog" or "just a cat"? Painful words to hear.
Children take it hardest. If a child's pet dies, you can assume that this may be their first experience with death, so including them in your pet loss condolence is very important.
Here are some simple ways you can let someone know you care. Whether you learn of the pet's passing immediately or after some time has passed, your thoughtful gesture will be received with an open and grateful heart.
4 Simple Ways to Honor & Recognize a Pet That Has Crossed the Rainbow Bridge
Send a sympathy gift. It doesn't have to be expensive. There are many options available from trinkets to living memorials such as flowers and plants.
Send a handwritten card or note. Taking the time out of your busy day to pen a personalized message would be greatly appreciated.
Post a tribute to the pet on their social media page. Posting a tribute is the modern way to commemorate an animal's special place in your heart.
Make a personal phone call. Who uses the phone anymore to make a call? With texting and SMS messaging, the phone doesn't ring often. Therefore, imagine how your soothing voice could help a grieving heart.
So, this year beginning with World Pet Memorial Day, take time to honor someone's pet loss. It may seem like a small gesture to you, but to the grieving pet parent, it will mean the world. Their loss is real and deep.
PetPerennials.com creates a thoughtful celebration of life gifts for acknowledging pet loss, healing hearts, and our land one product at a time. Pet Perennials grew from its founders' love of animals and their own experiences with pet loss.
---
People who liked this blog also read these: